Overview
Heel spur is a thorn-like, bony protrusion of the heel bone, which can become inflamed through irritation, thus causing pain. A heel spur forms at the tendon attachments on the muscles of the heel bone as a result of micro-injuries to the tissue caused by overstraining. As part of the healing process for these micro-injuries, the body stores bone material in the tendon attachments as a repair mechanism. Heel spurs can develop over a very long period without causing major complaints. However, irritation of the area surrounding the ossified tendon attachment can cause inflammations. Left untreated, the inflammations can in turn lead to increased ossification and thus to permanent degradation with a risk of chronic manifestation. The normal rolling procedure that we all use when walking is then frequently no longer possible.
Causes
There exists a membrane that covers most of the bone along the heel. When this membrane gets torn repeatedly due to straining of the muscles in the foot, the calcium deposits that lead to heel spurs are more likely to occur.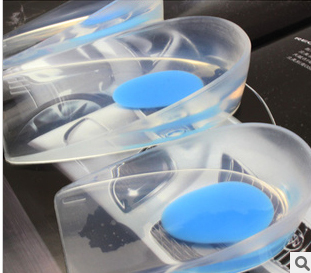 Symptoms
Heel spurs often do not show any symptoms. If you have intermittent or chronic pain when you walk, run or jog, it may be heel spur. There will be inflammation the point where spur formation happens. The pain is caused by soft tissue injury in the heel. Patients often describe the pain as a pin or knife sticking to the heel. The pain is more specially in the morning when the patient stands up for the first time.
Diagnosis
Sharp pain localized to the heel may be all a doctor needs to understand in order to diagnose the presence of heel spurs. However, you may also be sent to a radiologist for X-rays to confirm the presence of heel spurs.
Non Surgical Treatment
Ice and use arch support . If you can localize the spur, cut a hole in a pad of felt and lay the hole over the spur. This supports the area around the spur and reduces pressure on it. Massage the spur. Start gently with your thumb and gradually increase the pressure until you?re pushing hard directly on the spur with your knuckle or another firm object. Even it if hurts, it should help. Arch support. Build up an arch support system in your shoes. Try to equalize the pressure of your body weight throughout your arch and away from the plantar area. Use a ?cobra pad? or other device that supports the arch but releases pressure on the painful area. If homemade supports do not work, see a podiatrist about custom orthotics.
Surgical Treatment
Surgery, which is a more radical treatment, can be a permanent correction to remove the spur itself. If your doctor believes that surgery is indicated, he will recommend an operation - but only after establishing that less drastic methods of treatment are not successful.